Biography
Forget what you think you know about 65daysofstatic. This is not the recent past when things were certain, this is the fractured now and none of us are keeping up.
Nothing you've heard is true.
In 2011, 65daysofstatic went off the radar and began laying the foundations for a new record, somewhere in the back streets of sleepwalk city, Sheffield. Unencumbered by financial buoyancy and inspired by the outbreaks of truth that managed to slip through the media dredging nets, there was nothing left to do but keep warm by burning music. Melting it down to that white hot point where sound melts into sound. Pushing each sound to the verge of crumbling into noise. The music took on a light of its own and the project sprawled wider and deeper than imagined. Black water. Way out, way down in the undertow.
'Wild Light' is a 65daysofstatic that 65daysofstatic never thought they'd be. Wild Light is where the music leads. There is no order but chaos. It doesn't matter what you think you know about 65daysofstatic, nothing you've heard is true in the now. All that matters is to listen. If it sings to you, let it. If it keeps you up all night, let it. If it repels you and must be exorcised from turntable or CD player, sent to trash, deleted, command Q for all time, fine.
No-one knows what is happening.
In the beginning, 65dos made records after slinging coffee and delivering mail, cleaning warehouses and typing copy. A lot of good music gets made that way. The surprise attack of 'Fall of Math' in 2004, 'One Time for All Time' like a spilt jigsaw in 2005, the undulating labyrinth of 'The Destruction of Small Ideas' in 2007. Slow burning success, uneven victory, stadium support slots and toilet tours in rapid succession, in parallel: nothing ventured, nothing gained. You've got to be in it to win it.
65dos like to think they get better with age. For every ten young cults with the element of surprise there are a few old ones, in the shadows, doing this forever, every day, all the time, failing harder and failing better, beyond the reach of the hype machines. Music is a wild curve, and if you think you know all there is to know, you're cooked.
There is a lot of danger out there, ok?
Late era 65dos includes 2010's 'We Were Exploding Anyway' a concise, tough, inexplicable journey through the post-millennium guitar-synth hinterland via the faintest echoes of the North's past glories. 2011's crowd funded 'Silent Running' represents a brief foray into 1970's sci-fi classicism, an alternative soundtrack to the film of the same name.
The eight tracks and fifty odd minutes contained on Wild Light were not written by 65dos as much as unmade by them. Unmade from vast blueprints, the open source data of four minds trying to scramble some semblance of meaning from unbalanced times. Doxxed dream protagonists and muscle amnesia. Beginning with the tsunami of 'Heat Death Infinity Splitter' the all-seeing eye-of-the-storm 'Prisms' and the blind deep of 'The Undertow', 'Wild Light' is the sound of the unsayable and the unnamed, the 'Blackspots' that bloom in dreamland. Continuing with the half-awake opiate tides of "Sleepwalk City' the album peaks with the stripped bare melody bank of 'Taipei' before curving away in the ebbs and peaks of 'Unmake the Wild Light' and the synth fortress of 'Safe Passage'.
'Wild Light' was produced by long time conspirator Dave Sanderson (Jim Jones Revue, Hey Sholay, Little Man Tate) and 65daysofsatic, recorded at the Chapel, Lincolnshire, and mixed at Castle of Doom, Glasgow, by the inimitable Tony Doogan (Belle and Sebastien/Mogwai). It was mastered at Abbey Road by Frank Arkwright.
Original artwork was again produced by Caspar Newbolt of Version Industries (Louis CK, Alessandro Cortini, Daft Punk, Big Black Delta) and is as inscrutable and terrifying as the record is cinematic and wide.
We are myths of each other, in each other's lives.
Artist Contact
• Management – Andy Farrow – andy@northernmusic.co.uk
• Assisted By – Vicky Langham – vicky@northernmusic.co.uk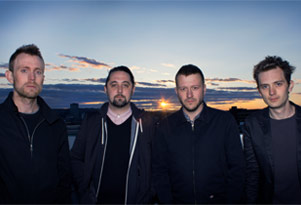 Links
• www.65daysofstatic.com
• www.facebook.com/65daysofstatic
• www.twitter.com/65dos
• www.youtube.com/user/65propaganda
• www.omerch.eu/shop/65daysofstatic
Band Members
• Joe Shrewsbury.
• Paul Wolinski.
• Rob Jones.
• Simon Wright.
Music
Videos
Upcoming Tour Dates